A cyclist has been caught ripping a windscreen wiper off a taxi during a road rage incident, that saw him throw himself onto the vehicle's bonnet before accusing the driver of trying to "run me over".
Premier Taxis Lytham St Annes & Blackpool posted the video on their Facebook page earlier this week in an attempt to make the cyclist pay for damage he caused to a cab in Blackpool, Lancashire on Monday night.
The video begins with the cyclist trying to film the taxi on his mobile phone as he cycles past yelling abuse.
When the cab later stops at a roundabout the cyclist catches up and appears to strike the vehicle as he cycles past and overtakes a bin lorry.
The driver is then heard telling his passenger: "He's an idiot, flipping hell fire. He's off his nut."
He continues: "He's come off his bike I think. He's in front somewhere, I don't know what's going on – he's having a go at the dustman now."
The cyclist then appears in front of the cab where he raises his arms in the air and taunts the driver saying, "Come on, where are you going?"
"Where are you going? You're running me over mate.
"Come on, what are you doing?"
The taxi then heads towards Blackpool North station but is tracked down by the cyclist again who comes into view before throwing his bike to the ground.
The taxi then reverses down the road and flees the scene.
Managing director of Premier Taxis John Cutler told local media that the video is "unbelievable, it's so shocking" and praised the driver for his "cool reactions and keeping the passenger calm".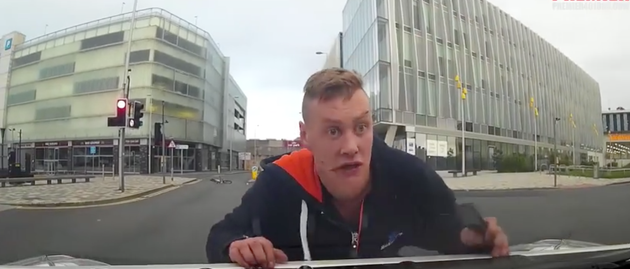 Lancashire Police have confirmed the incident was reported to them around 7.35am on Monday.
In a Facebook post the taxi company has urged anyone who can help identify the cyclist to contact them.
"We're not looking for anyone to name and shame him, just for him in the cold light of day to own up to his error and do the right thing and pay for the damage he caused… We will remove the video from our page once the individual is good enough to come forward."
The company has since replied to commenters – more than 500 people have commented on the video which has been viewed over 180,000 times – who have questioned what led to the incident and why the footage had been edited.
"With regards to what happens prior to the footage that we are showing the answer is simply nothing. The driver collects the passenger just before the footage begins so it isn't appropriate to show that footage on here as it would identify the pickup location," Premier Taxis wrore.
"I've seen a few of your comments now trying to apportion blame and it isn't doing anybody any favours.
"We have simply asked for those in the know to advise us of the persons identity. We aren't looking for anyone to turn into an internet detective or to bring up any other completely irrelevant matters. Rest assured the footage that can be checked has been viewed. If you watch the video you'll see the cyclist target the bin lorry, and other vehicles behind ours when the driver finally gets away from the area."
Source
http://www.huffingtonpost.co.uk/2017/08/31/unbelievable-blackpool-road-rage-video_n_17875296.html